---

Release new digital single「ANKISMA KA KA 2020」on OCT.2
アルバム『Utarhythm』(2016)収録の「Ankisma kaa ka(Ride on snow)」のニューヴァージョンをデジタル配信限定リリース
マルチ管楽器プレイヤーのYOKAN氏が参加し、ホーンセクションと歌を新たにオーバーダブした2020 mixです‼️
Bandcampに加え、12/25より、以下の音楽配信サービスでも購入・ストリーミングがスタートしました!
iTunes Store/ Apple music/ Amazon / KKBOX/ OTOTOY/ HMV music/ spotify/ deezer

Bandcamp→https://okidub.bandcamp.com/track/ankisma-kaa-ka-2020
This tune is  a new version of 「Ankisma kaa ka(Ride on snow)」from album『Utarhythm』(2016) with horn sections and vocals.It's going to be released on 2.Oct as the second digital single for the band on bandcamp.
Release new digital single「Sonkayno」on august.7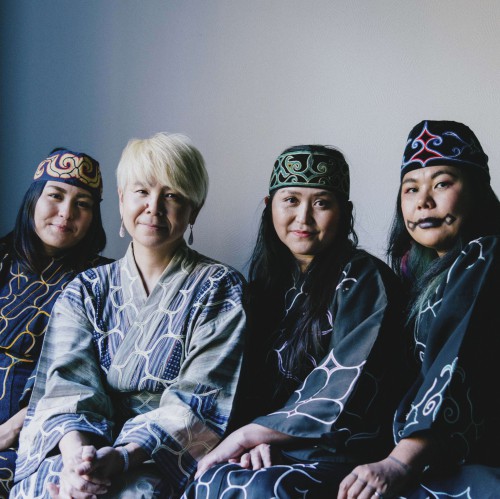 2020年7月にスタートしたNetflixオリジナルドラマ『呪怨:呪いの家』 のエンディングテーマ曲として話題騒然
のマレウレウ「Sonkayno」を、8/7(金)にBandcamp先行で全世界配信リリース!
8/20(木)より以下の音楽配信サービスでも購入・ストリーミングがスタート!
iTunes Store/ Apple music/ Amazon / KKBOX/ OTOTOY/ HMV music/ spotify/ deezer/レコチョク/LINE music
これらのサイトをまとめたリンク→https://linkco.re/A2G33DRr
Sonkay no
Sonkay no
Akina kus
Harar so so
アイヌの遊び歌。
二人が対面で座っていて、その間に罠のロープが輪っかになって置いてあり、輪っかの中にお菓子がおいてあります。縄の両端は人が握っています。親ネズミと小ネズミ役は二人の気をひこうと膝を触ったりします。その隙に輪っかの中にあるお菓子を素早く獲るのですが人間が素早くロープを引いてネズミが捕まったらネズミの負けです。
Traditional Ainu song.
This is a game for four people. Two people sit face-to-face with a trap rope between them and some sweets in the loop of the trap. One person holds each end of the rope. Two more people pretend to be mice—a parent and child. The parent mouse and the little mouse tickle the knees of the people holding the rope in order to distract them. In the meantime, they try to catch the sweets in the circle. If the people pull the rope quick enough and the mice are caught, the parent and child mice lose.